Connected to Christ: Overcoming Isolation through Community
Learn to encourage Christ's community in your congregation, and how to bring others out of their isolation to find it in your Church.
Overview
Christ's Church is never isolated. We are always together as believers. Learn to encourage this community in your congregation, and how to bring others out of their isolation to find community in your Church, in Connected to Christ: Overcoming Isolation through Community. This impactful guidebook with real life anecdotes and a conversational feel will allow you to grow your Church community, coming back together as His people.
What People Are Saying
"It seems strange to assert that one of the most countercultural claims that we as Christians could make in twenty-first century America is that we are created for community, but here we are: our society is scattered, tattered, and—despite the promises of technology—disconnected. Brian Davies incisively diagnoses our ills and demonstrates a more excellent way: connected to Christ and His Body, the Church. Read this book to recover a vision of what it looks like to live a life of faith in Christian community and to lead a body of believers that is bound both to the Lord and one another."
—Rev. Dr. Ryan P. Tinetti, pastor, Trinity Lutheran Church, Arcadia, Michigan
Rev. Davies has written an inspirational book that points the church back to its Acts foundation. Connected to Christ gives the church vision and practical skills to overcoming isolation by establishing a vibrant community. Brian gives us some heartwarming stories of the power of the people of God coming alongside isolated people and loving them into a Christ-centered community. The book follows a simple plan. Brian dives into how community is found, realized, and practiced. He lays out how Jesus invites us to identity and belonging in Him, and how God has indeed made a space at the table for each of us. The book points out how the Lord's vision is that all who find identity and belonging in Him also find community with one another. Rev. Davies finally leads us to the practical ways to discover the richness of life together. This is a must-read book for anyone seeking an authentic community. If you follow the lessons in this book, it could create life-transformation in your church.
—Rev. B. Keith Haney, Assistant to the President for Mission, Stewardship, and Human Care, Iowa West District LCMS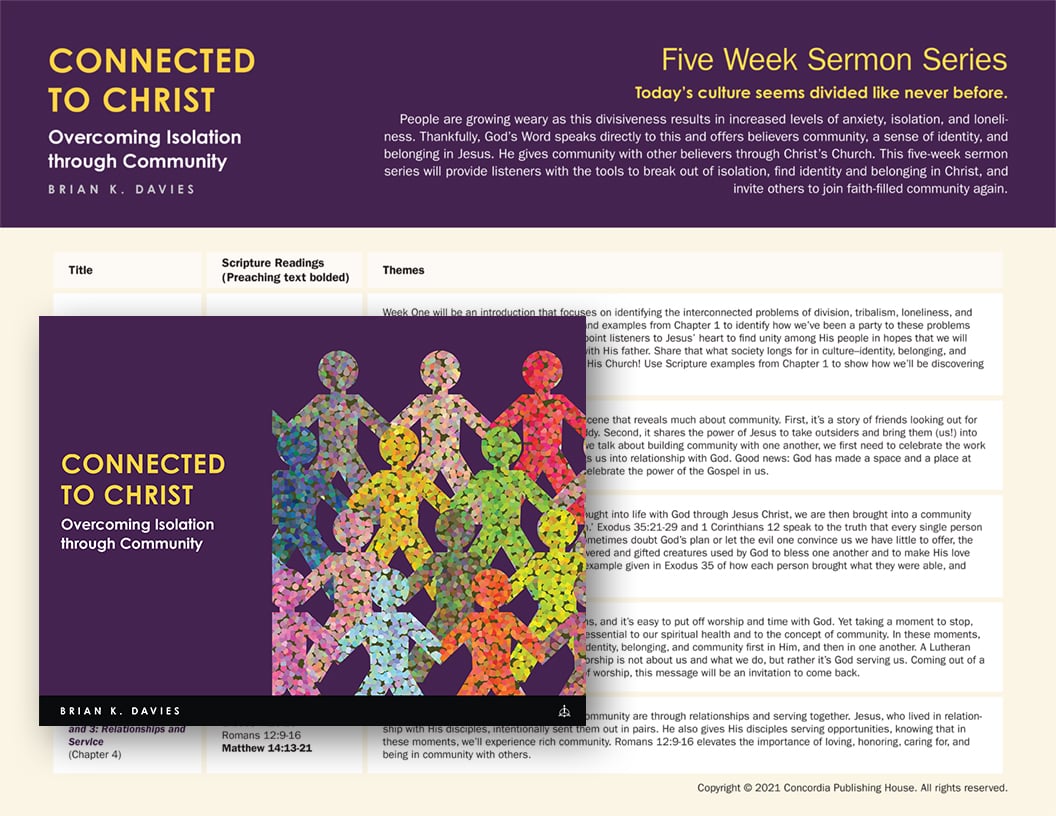 Sermon Series
Invite your congregation to find community in Christ and each other. The downloadable five-week sermon series guides you and your members through different aspects of community using Connected to Christ. The download includes Bible readings, sermon themes, social media graphics and more. Make planning easy and download the kit today.
Download Kit
About the Author
Brian Davies serves as pastor of Lord of Glory Lutheran Church in Grayslake, Illinois. He is chaplain for the Grayslake Fire Department, husband to Beth, and dad to Kate, Megan, and Luke.
More Information

| | |
| --- | --- |
| ISBN-13 | 9780758666932 |
Other Formats Available